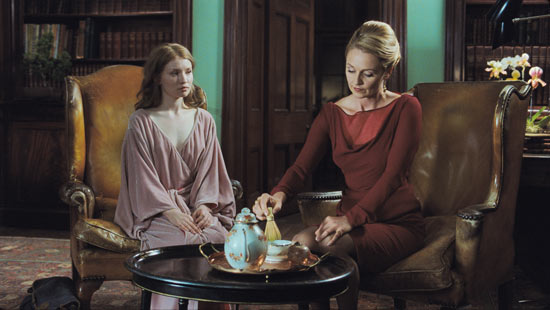 Some things that make me happy about my time in Australia.... Inspired by films and theatre I have seen, places I have been, among other things....
From top:
Incu
, a pretty cool boutique in Sydney, cupcakes from
Sparkle (
Surry Hills, Sydney), a look from Melbourne based
Lady Petrova's "
Peace Hotel" collection (I am stocking her line in
Audrey Grace
), a look from
Lover's
"A Dance for One Collection," an Aussie label that is truly beautiful, still from Peter Weir's
Picnic At Hanging Rock
(I wrote a paper on this film for my course here), Cate Blanchett as Lucinda in Gillian Armstrong's
Oscar and Lucinda,
Emily Browning and Rachael Blake in
Sleeping Beauty
(saw it at the film festival and not crazy about the film.. but beautiful cinematography), promotional image for
The Seagull
at Belvoir Street Theatre (seeing this Wednesday), Judy Davis in
My Brilliant Career,
Miranda Otto and cast in
The White Guard
at Sydney Theatre Company (it was great, and also met Miranda- saw it last week),
Frankie
magazine- the best- don't know what I am going to do without it!, a koala- I got to cuddle one the other day, macaroons from
La Belle Miette
, Melbourne.
The shop is coming along so well. I have been so busy here yet still steadily working on it. I am working with so many Aussies! Have some exciting shoots coming up soon.. working with the lovely Jeannine Tan on a "Picnic at Hanging Rock/Virgin Suicides" shoot to be displayed in store as well as another with Ella Ruth Cowperthwaite inspired by Audrey and Grace. I am so excited about these shoots!
Also, I believe Audrey Grace will be stocking a few select pieces by the beautiful label
Sretsis (
above). I'm also working with the lovely Alyssa Nicole and will be stocking her adorable line named,
Alyssa Nicole
.
Alyssa Nicole
Talk soon.