Grace and Audrey backstage at the Academy Awards, 1950s
Hey!
I'm Jaclyn and welcome to my blog for pop-up boutique, Audrey Grace!
I will also use this blog to record my summer travels to Sydney and London!
I hope you like the design, it was designed by the lovely and talented Tabitha Emma. Check out her work here: http://tabithaemma.com/
Now, a little bit about me and the shop!
I have always wanted to open a boutique, so I can say this has been a lifelong dream of mine! I am starting it as a pop up in Jackson, Mississippi- my hometown, because I feel like it will be a great place to test out the market.
I hope it will be successful and expand!
Audrey Grace is inspired by all things Audrey Hepburn and Grace Kelly. It's going to be an emporium of beautiful things. Please check out some of the sites for the stock, which I've listed below! (Also note, some designers are still being confirmed.) :)
Some of the brands I will be stocking are:
TBA (England)
Made by White (Australia)
Alexandra Grecco (New York)
Eclectic Eccentricity (England)
Tatty Devine (England)
Lady Petrova (Australia)
Rachel Antonoff (New York)
Alice Takes A Trip (England)
Geronimo (Los Angeles)
Penny Masquerade (England)
The Secret Tea Party (England)
Katie-Lousie Ford (Australia)
My Lemonade Dreams (California)
Up The Wooden Hills (Sweden)
Eleanor's Riot (Edinburgh)
Erendira Josephine (England)
Her Pony (Australia)
Alyssa Nicole (California)
Cleo Ferin Mercury (England)
Meagan Camp (New York)
Plus collaborations with Alexandra Grecco, Up The Wooden Hills, Kelsey Genna (www.kelseygenna.com), and Katie-Louise Ford.
Local Sellers
Dora Lee Malouf (art work)
Doucement Dit by Anne-Marie (art and accessories)
Art by..
Calla O'Malley (Canada)
Caitlin Shearer (Australia)
Lina Carrillo (Australia)
emmakisstina (Sweden)
Kerri-Ann Hulme (England)
The Secret Tea Party
Grace Hamilton/Skies Dream Blue (England)
TabithaEmma (Australia)
I know I am forgetting things that will be in the shop. Also, there are going to be many surprises!
Check out an interview with me about the shop here:
http://skiesdreamblue.wordpress.com/2011/05/11/interview-jaclyn-bethany-of-audrey-grace-boutique/
I'm doing a couple of more interviews this week. Please keep up with the blog because I will be posting interviews with some of the artists and designers that will be featured in store!
I'm posting some of my favorite Audrey and Grace photos for the first post!
Audrey getting her makeup done on the set of Sabrina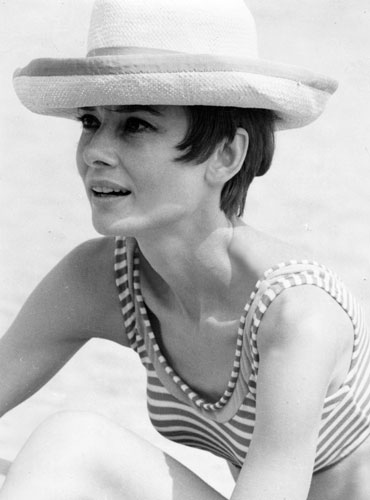 Audrey, 1960s
Grace in Cannes