Above are some images from the collection Eleanor's Riot. They will all be in store at Audrey Grace! Below is an interview with the lovely Fi MacKay, whose debut collection, Eleanor's Riot, will be stocked in store. I am so excited to be the first U.S. stockist for Eleanor's Riot! Thanks to my stylish friend Julia K. for the tip :)
I live in Edinburgh, Scotland's beautiful capital city.
2. Can you tell me a little about your design process and where do you draw your inspiration from? Tell me about your collection, "Eleanor's Riot."
I know it sounds clichéd but I really do draw inspiration from everything. I studied Costume Design so find that I pull from films and have a real love affair with ballet costume, my designs are certainly steeped in vintage reflections. I collect old posters and postcards, the fashion illustrations across the Art Deco movement I love. At the moment I am obsessed with 1960's fashion so I spend a lot of time lingering over old family photographs, my Granny was incredibly style conscious, as well as looking at old classic movies and the Hollywood stars. I like to imagine a character and dress them up. I do follow what is going on in the real world too. Edinburgh is full of stylish individuals; we have the best vintage selections. Even our charity shops are crammed with stylish pieces. I am quite addicted to having a flick through what is going on in the Blogger world; there are some creative ladies out there with a real eye for vintage. Being able to expose yourself to that at a click of a button amazes me. I am also guilty of designing pieces that I want to wear. I want my clothes to make people smile, to feel amazing in them and wear them to death. Above all, the only constant is change, this collection is cute and playful but the label is not restricted by that I want it to keep developing.
How long have you been designing?
Since graduating, this has been my first full year professionally designing.
Have you always been interested in fashion?
I have always loved clothes. My mum says she used to have to take me to the shops in fancy dress as I just refused to wear practical clothing. As I got older I remember drawing pictures of me and my best friend in our possible outfit choices for parties and discos. I chose to study costume to ensure that my technical abilities were really nurtured, I have always wanted to make my own clothes and with costume I was allowed to delve into my imagination and create wild pieces. I love reining that in now to construct the simpler wearable pieces for Eleanor's Riot.
Who can you see wearing your collection? What is her aesthetic?
The Eleanor's Riot
girl loves a compliment and loves to be subtly unique. Each piece is completely one of a kind and handmade by me. I may do the same cut several times but always in a different fabric. She certainly does not want to be seen in the same outfit as anyone else... She might be conscious about where her clothes are coming from and appreciate how special each piece is, often ethical fashion is associated with hemp and unflattering shapes but it doesn't have to be like that, ethical fashion can be pretty, stylish and something to revel in. This collection especially has to be for the girl who loves quintessential British style; she might be a bit of daydreamer, a bit playful and definitely love a good story.
6. Who would be the ultimate celebrity (or even a style icon from the past) that you would love to dress?
I love Carey Mulligan at the moment, I would be pretty chuffed if she rocked one of my outfits.
Carey Mulligan in An Education, which inspired Eleanor's Riot
Since the boutique is called
Audrey Grace
what are your favorite Audrey Hepburn and Grace Kelly films or even specific outfits they have worn?
Grace and Jimmy Stewart in
Rear Window
Both were such total Betty's they looked amazing in whatever you put them in. I do love the images of Audrey Hepburn in casual jumpers, ballet flats and tight trousers, she was so effortlessly beautiful. Grace Kelly I always associate with 50's tulle skirts and off the shoulder cut tops so lady like and so glamorous. As for films,
Rear Window
is a real favourite of mine and for Audrey I would say
Sabrina
or
Breakfast at Tiffany's
. All of those films are such comfort films for me. I saw
Breakfast at Tiffany's
on the silver screen and it made me fall deeper in love with it than ever before.
Audrey in
Sabrina
8. Can you tell me a little bit about what designs will be stocked in
Audrey Grace
?
Audrey Grace
will have my debut collection, inspired by 1960's school girls and whimsical fairy tales. The pieces are created from a mixture of antique lace, vintage fabrics and end of line cut offs ensuring that each piece is completely unique and one of a kind. I have also teamed up with my sister, a Fine Artist, to create bespoke hand illustrated shift dresses especially for the boutique. Kate's illustrations are so delicate and complex. She is influenced by mythology, traditional fairy tales and imagination. We are quite similar in that respect. She states "I don't plan where the story is going, just follow the line in a stream of consciousness. Weaving memories, ideas, conversations and dreams into my own personal mythology".
1960s Schoolgirls
9. Who are your favorite artists?
Oh so many! My sister Kate MacKay's work is really special and mesmerising. I own a couple of etchings and illustrations she has done and I never tire of looking at them. So she is number one. I love Kozy and Dan they are really kitsch and playful, they tend to hide images within bigger images, usually bunnies. It's so simple and fun. Hokusai I am astounded by, I was lucky enough to be taken to see 100 views of Mount Fuji, even at a young age I thought it breathtaking. In a completely different direction I love the works of Jonathan Freemantle, I must admit I am a bit of an amateur when it comes to painting, but something really hooked me with his work. His latest exhibition was so bold, full of colour and shapes and wonderfully presented. I would love to have him put paint on my shift dresses in the same way that Kate casts her own spell on them.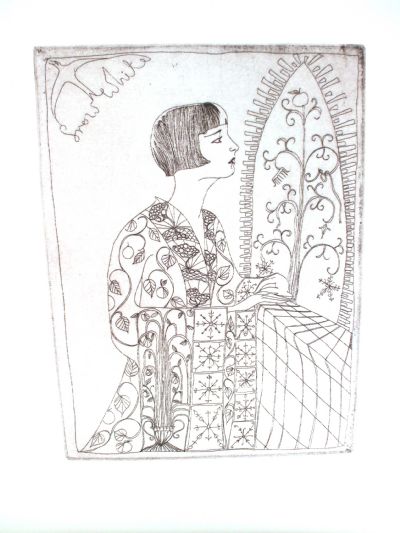 Work by Kate MacKay
10. Who are your favorite designers?
Above all I love
Erdem
. His textiles are like a work of walking art.
Erdem
11. What (music) are you listening to now?
A mix myself and my fiancée made for one of our dear friends, right now it is The Beatles – I Saw Her Standing There
12. Any favorite shops in Edinburgh?
Edinburgh is a wonderful city to shop in. There is an abundance of independent boutiques stacked full of local and independent designers.
Godiva Boutique
pioneered the movement & is well recognised to be consistently giving young designers and new graduates a platform to showcase their work along with stocking handpicked Vintage.
Totty Rocks
is supremely stylish, and flawlessly designed. The owners make every last bit of clothing in the shop, with a working studio in the shop attic. I am desperate for one of their trademark pony print Macs.
Best for vintage above all is
Herman Brown
, the owner has been dealing vintage for over two decades. You can pick anything up in the shop and she will recall its story. She lives and breathes antiques and vintage as well as dishing out advice for any young lover of fashion looking to set up shop.
There are quite a few gallery shops in the city as well; the
Red Door Gallery
is great for prints and cards.
Analogue
is the only place you can pick up
Lula
magazine as well as a number of other great design books and recently
Superclub
opened its doors.
It is a working studio space with a gallery entrance a selection of zines and works made by the artists in residence can also be purchased. Truly Edinburgh is brimming with creativity and inspiring individuals.
13. What can we expect in the future from you?
Kate and I are working on a few illustrations that we can easily screen print onto anything that doesn't move. I am also hoping to set up an online shop. As for the clothes I don't want to give away too much, but Eleanor will be stepping back in time once more.
14. Who is your style icon?
I have to hold my hands up and admit it; I have a girl crush on Alexa Chung. I love how she mixes up her looks some days preppy and feminine other days edgy and oozing cool. I wish I had those legs.
Alexa Chung

Below are some of the beautiful looks from
Eleanor's Riot
that will be stocked in shop! Custom designs to come, too!
All images: courtesy, Eleanor's Riot